Prince of Peace Plowshares Trial
Sketches of the Plowshares Trial
By Sylvia Gilman
Massachusetts Peace Action
Cambridge MA
Before dawn on Ash Wed., Feb 12, six people calling themselves the Prince of Peace Plowshares boarded USS The Sullivans at Bath Iron Works (BIW) in Maine. USS The Sullivans is an Aegis destroyer, capbable of carrying enough nuclear missiles to destroy a continent.
In a symbolic act of disarmament, they spilled their own blood upon the ship and banged their hammers upon the missile hatch covers and upon equipment in the missile firing control center.
The Plowshares were tried on Federal charges of destruction of government property in the District of Maine, Judge Gene Carter presiding. Here are images from their trial and sentencing.
---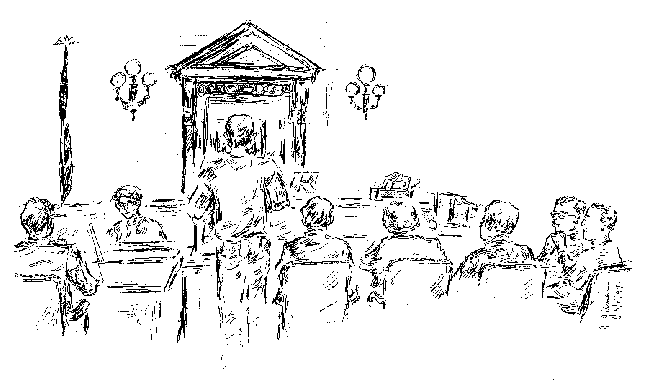 Plowshare defendant, Steve Baggarly, representing himself, presents his defense to Judge Gene Carter. Seated behind him on the right are his fellow defendants, Steve Kelly, Susan Crane, Phil Berrigan, Mark Colville, and Tom Lewis-Borbely.
---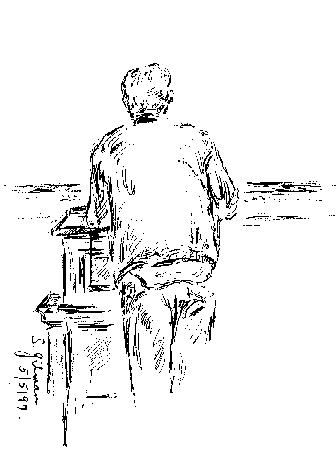 Plowshare defendant and veteran of many historic peace actions since the Vietnam War, Phil Berrigan, presents his defense before the Court.
---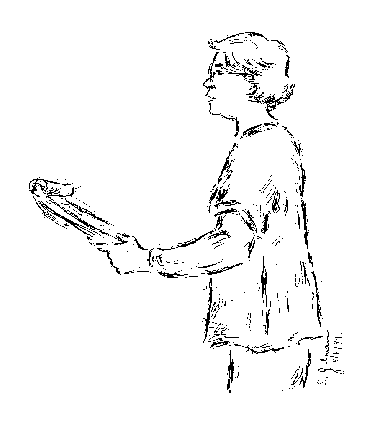 Plowshare defendant, Susan Crane, presents her defense to the jury, arguing that the Plowshares action was "legal, moral, and was our responsibility."
---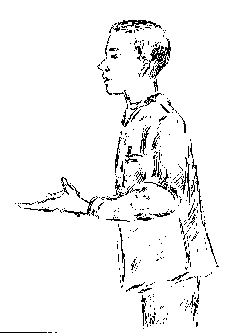 Plowshare defendant, Mark Colville, presents the "Artichoke Defense" to the jury.
---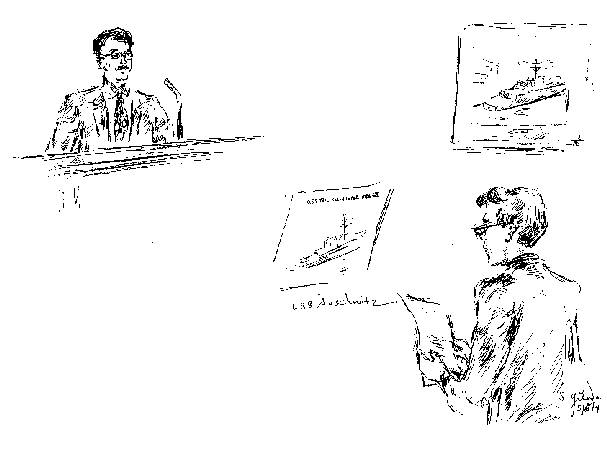 Plowshare defendant, Steve Kelly, cross examines Robert Bennett, USN, on the capabilities of the USS The Sullivans, which carries enough nuclear-tipped Cruise Missiles to incinerate an entire continent.
---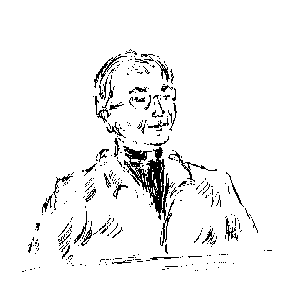 Dan Berrigan, brother of Phil Berrigan, testifies on behalf of the defense.
---
The defendants were barred by Judge Carter from presenting their primary defense, based on the Nuremberg Principles. In Judge Carter's Courtroom, there is no place for arguments based on International Law, International Treaties banning nuclear weapons, or arguments based on any authority higher than US National Law.
During their deliberations, the jury sent a note to Judge Carter, asking if they could take into account whether the trial itself was fair. The judge told them no. The jury returned a guilty verdict.
The next phase of the trial was sentencing. But first, Assistant US Attorney Helene Kazanjian wanted to reopen the issue of actual damages, which the government claimed exceeded the estimated damages originally presented at trial. The Argument for Enhanced Level of Damages
During the long summer interlude between the trial and the sentencing, the supporters of the Plowshares began to gain in strength, numbers, and creativity. In the absence of strong media coverage, many supporters found innovative ways to get their story out.